elevator shoes, shoe lifts for men, elevator shoes for men, height increasing shoes, asics
Sneakers and athletic shoes are important items in any wardrobe, and brands like Asics are well aware of this fact. Companies like Asics have nearly perfected the formula for athletic shoes, but they often fail in one department. Elevator sneakers are a rarity, and few brands are committed to offering this special type of shoe that accommodates shorter men. Where others fail, GuidoMaggi succeeds by providing an incredible collection of height increasing footwear destined to change your life for the better.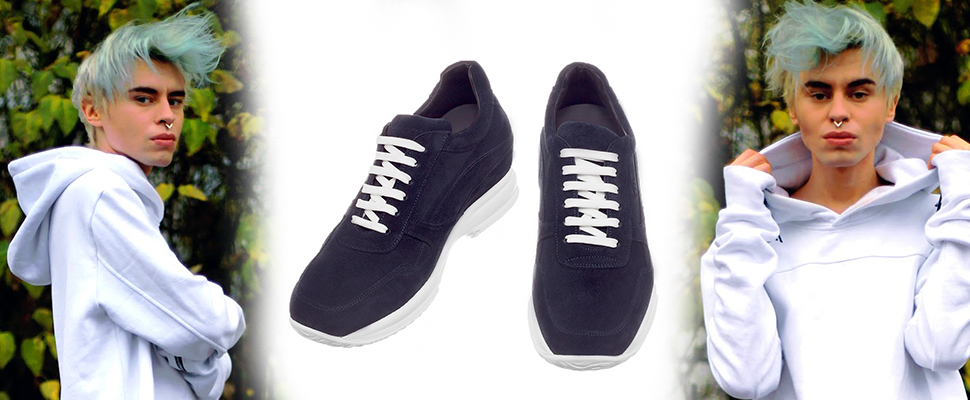 A range of footwear that is as versatile as it is luxurious is a great investment -- one with a big payout as far as style is concerned. Elevator footwear is becoming increasingly popular among men and women with a knack for style. The perks of added height, combined with the high-fashion essence that comes from Italian-made goods creates a perfect storm of style that is guaranteed to heighten your self-confidence.
GuidoMaggi's range of luxury elevator footwear is filled with an extensive array of styles, ensuring you find a pair that's just right for you. Choose from a selection of heel heights, or choose based on color, cut and material. In keeping true to its commitment to creating the most luxurious elevator footwear, GuidoMaggi utilizes a number of rare, superb-quality leathers that add instant style to any ensemble. From python, to South African ostrich, these leathers exemplify the elegance and dedication to great style that GuidoMaggi has become known for.
With the fall season just weeks away, it's the perfect time to reinvent your personal style, driving your potential to new heights. Stock up on several pairs and build your fall wardrobe with boots, loafers and dress shoes at once, or instead opt for one special pair to make that special occasion even more enjoyable.
GuidoMaggi's stellar reputation stems from more than just great-looking shoes. The company is committed to providing only reliable products intended to last for years. While other brands of elevator shoes focus on function and nothing more, GuidoMaggi prides itself on offering comfort and durability you can trust. From high-quality rubber, to waxed shoelaces that add an additional hint or sophistication, everything about GuidoMaggi is carefully thought out to ensure optimal luxury.
Elevator Sneakers: not just sports shoes
-
5.0

out of

5

based on

1

vote